Chamowners Web - Cricket Pictures
Adult Crickets | Chick Waterer | Colony Container | Egg Flats | Escapee Control | Feeding To | Gut load | Nesting Container | Rearing Container
House Cricket (Achetus domesticus)
click on an image for a full size picture
Use your browser's back button to return after viewing pictures
Feeding the crickets to your animal

This is a Veiled Chameleon "bowl feeding". This is one method of feeding. Bowl feeding allows closer monitoring of food intake.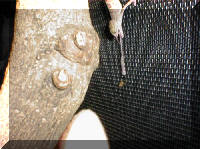 Another method is to "free roam" the crickets and allow the animal to "hunt". Free roaming provides exercise and entertainment for the animal.
Each method has its pros and cons.
Adult Crickets | Chick Waterer | Colony Container | Egg Flats | Escapee Control | Feeding To | Gut load | Nesting Container | Rearing Container
To break out of frames (not recommended) click here

Chamowners Web - Cricket Pictures